Autotex working to improve our SERVICE RESPONSE TIME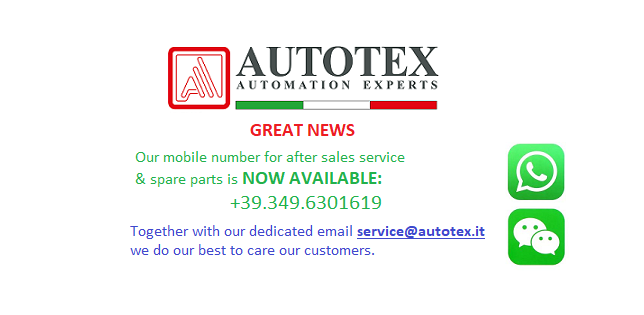 Spare Parts
Contact: Mr. Giuseppe Solazzo
e-mail This email address is being protected from spambots. You need JavaScript enabled to view it.
Urgency CALL +390302501759 EXT 1 or Whatsapp/Wechat +393496301619
---
UNDER WARRANTY. Please send an e-mail to the above address containing:
MACHINE SERIAL NUMBER
ITEM CODE to be replaced or PICTURE
QUANTITY desired
Any warranty will be recognized ONLY AFTER the analysis of the damaged part(s) from our specialized technical office. If the guarantee is considered valid, a credit note will be issued for the amount paid at the time of purchase of the item.
OUT OF WARRANTY. Please send an e-mail to the above address containing:
MACHINE SERIAL NUMBER
ITEM CODE to be replaced or PICTURE
QUANTITY desired
Service department will provide prices and estimate delivery date.
Technical Assistance Service
Contact: Mr. Giuseppe Solazzo
e-mail This email address is being protected from spambots. You need JavaScript enabled to view it.
Urgency CALL +390302501759 EXT 1 or Whatsapp/Wechat +393496301619
Please fill in the ASSISTANCE REQUEST FORM (M_MRA) and send by e-mail to the above address.
Attaching pictures and videos can always be helpful. Service department will arrange an appointment with Technical department for eventual remote connection on the machine, or he will give you directly the solution to the problem.
In case of URGENCY please call the above number and be ready with the following information:
SERIAL NUMBER of the machine, a description of the problem encountered and frequency. Our service will assist you as soon as possible.